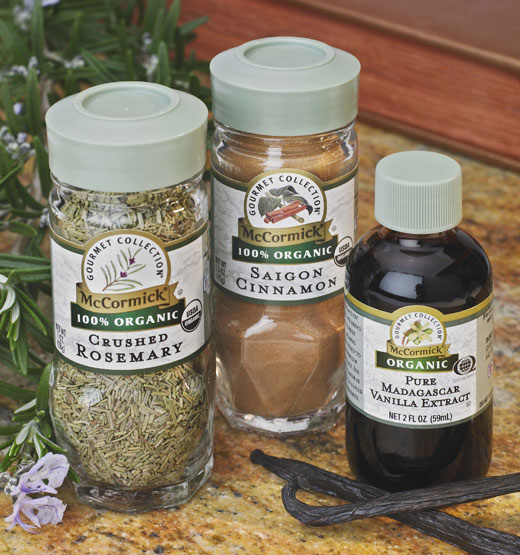 McCormick Organic Rosemary, Siagon Cinnamon, and Madagascar Vanilla Extract
HUNT VALLEY, MD (July 2007) – Nationwide demand for organic foods has never been greater. Now home cooks will have many more choices in the spice aisle as McCormick® rounds out its Gourmet Collection® with 21 new 100% organic herbs and spices, plus an Organic Pure Vanilla Extract from Madagascar. Now with a total of 30 organic products, including several trendy spice blends from exotic locales, McCormick Gourmet Collection has something to satisfy every need. What's more, the entire line of organic herbs and spices now sports a fresh new look, with a distinctive green cap. The 22 new items are:
Turkish Bay Leaves
Celery Seed
Saigon Cinnamon
Ground Cloves
Ground Coriander
Ground Cumin
Curry Powder
Chinese Ginger
Herbes de Provence
Italian Seasoning
Marjoram Leaves
Ground Mustard
Ground Nutmeg
Coarse Grind Black Pepper
Tellicherry Black Pepper
Cayenne Red Pepper
Crushed Red Pepper
Ground White Pepper
Poppy Seed
Crushed Rosemary
Sesame Seed
Pure Madagascar Vanilla Extract
McCormick organic products are certified according to national organic standards regulated by the USDA and confirmed by Quality Assurance International, the nation's leading organic foods certifier. The 100% organic designation is noted on both the label and the clear, tamper-evident shrink band around the cap of each product.
The new items join eight other organic herbs and spices in the McCormick Gourmet Collection: Basil Leaves, Dill Weed, Garlic Powder, Oregano Leaves, Parsley Flakes, Rosemary Leaves, Rubbed Sage, and Thyme Leaves.
The average retail price for the new organic spices and herbs is $5.47; the Madagascar Vanilla Extract is $9.04. All are available in the spice aisle of grocery stores nationwide. For more information, visit online at McCormick Gourmet or call 1-800-MEAL-TIP (1-800-632-5847).
McCormick and Gourmet Collection are registered trademarks of McCormick and Company, Hunt Valley, MD