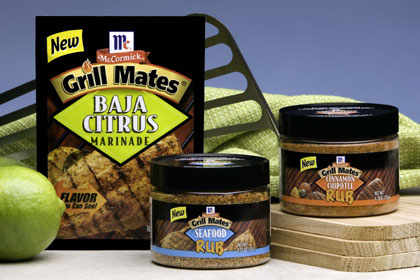 McCormick Grill Mates Cinnamon Chipolte, Seafood Rubs and Baja Citrus Marinade
New McCormick Grill Mates Seasonings
HUNT VALLEY, MD (May 2007) – Professional grill jockeys are the first to say it: Great rubs and marinades are the secret to terrific barbecue. Now, to add even greater sizzle to summer grilling, McCormick, the flavor expert, is adding three new selections to its expanding family of Grill Mates® seasonings. These two new rubs and a marinade infuse meats and seafood with flavor so spirited they will have everyone coming back for seconds.
Two sassy new Grill Mates rubs create a char-grilled crust that helps lock in juices to keep meats and seafood tender and moist.
Grill Mates Cinnamon Chipotle Rub – This rub is a blend of sweet cinnamon, smoky chipotle peppers, garlic, and onion brings bold, smoky savor to steak, pork and chicken.
Grill Mates Seafood Rub – Seafood Rub is a zesty medley of cedar smoke, garlic, rosemary, lemon, and black pepper that takes the guesswork out of seasoning grilled fish and seafood.
New Grill Mates Baja Citrus Marinade
There's no advance planning required for fully marinated flavor with new Grill Mates Baja Citrus Marinade. It goes from kitchen to grill in 15 minutes flat. A tangy Mexican-style blend of citrus, garlic, chile pepper, and cilantro, this marinade is surprisingly versatile, adding just the right touch to fish, seafood or chicken.
The suggested retail price for the Grill Mates Cinnamon Chipolte and Seafood rubs, which are available in the spice aisle of grocery stores, is $2.79 USD. The Grill Mates Baja Citrus marinade, available in the seasoning mix aisle, has a suggested retail price of $0.99 USD. Grill Mates products are available nationwide in the US.
McCormick and Grill Mates are registered trademarks of McCormick and Company, Hunt Valley, MD 21031