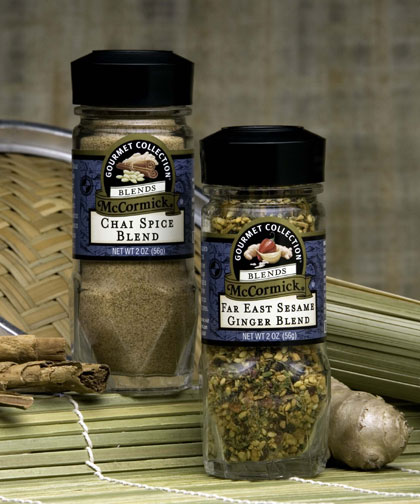 McCormick Chai Spice Blend and McCormick Sesame Ginger Spice Blend
McCormick Introduces Two New Gourmet Collection Spice Blends
HUNT VALLEY, MD – (May 2007) – With so many intriguing cuisines sparking today's dining scene, it's no surprise that consumers want to explore on-trend flavors at home. That's why McCormick, the flavor expert, is introducing two unique Gourmet Collection blends. McCormick's Chai Spice Blend and Far East Sesame Ginger Blend bring big flavor to the home kitchen in unique combinations of sweet, piquant and aromatic spices.
Chai Spice Blend – Traditionally used to flavor tea, this blend combines cardamom, cinnamon, ginger, cloves, and pepper for a sweet, soothing taste, with just a touch of heat. Professional chefs love Chai for its ability to add warmth, comfort and a hint of the exotic to everything from bread pudding, chocolate, cheesecake and cookies to rubs for grilled meats.
Far East Sesame Ginger Blend – Uniting the sweet and hot flavors of the Far East, this blend of ginger, black and white sesame seeds, garlic, red pepper, orange, and coconut is a vibrant addition to most any Asian dish, including stir-fries, noodle bowls, chicken, and fish. With so many enticing flavors in one bottle, a delicious Asian-inspired dinner has never been easier to prepare.
These new spice blends join the McCormick Gourmet Collection of more than 130 premium spices, herbs, and seasonings. The suggested retail price for the blends is $4.28 USD. Look for these gourmet spices in the spice aisle of grocery stores nationwide. For more information, visit at www.mccormickgourmet.com or call 1-800-MEAL-TIP (1-800-632-5847).
McCormick is a registered trademark of McCormick and Company, Hunt Valley, MD 21031