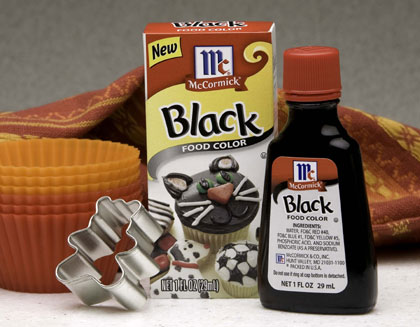 McCormick Black Food Color
McCormick Black Food Color Makes a Statement
HUNT VALLEY, MD (May 2007) – Anyone who has tried to make the perfect black by blending various food colorings knows that it's nearly impossible to get the right shade. Until now!
McCormick is introducing Black Food Color. The number one requested color, black is unbeatable for creating original and festive treats. Whether it's a spooky black cat cake for Halloween or soccer ball cookies to celebrate the team's victory, black food color opens up endless possibilities for fun in the kitchen.
The suggested retail price for a 1 oz. bottle of Black Food Color is $2.80 USD. Look for this item in the spice aisle of grocery stores nationwide.
Try these great recipes to stir up some fun.
Soccer Ball Cookies Recipe
Ingredients:
1 package (17 ½ oz.) sugar cookie mix
2 cups confectioners' sugar
7 teaspoons milk
4 teaspoons light corn syrup
¼ teaspoon McCormick Black Food Color
Directions:
Roll out dough on floured surface until about 1/4 –inch thick. Cut into round shapes with cookie cutter. Bake and cool cookies as directed on package.
Mix sugar and milk in small bowl until smooth. Stir in corn syrup until icing is smooth and glossy. If icing is too thick, stir in a small additional amount of corn syrup. Divide mixture in half. Leave one half white for the background of the soccer balls. Stir Black Food Color into the remaining icing until well blended.
Ice cookies with white icing. Place 7 small circles of black icing on each cookie. Pull white icing through each black circle, using a toothpick. Let cookies stand until icing is set.
Black Cat Cake Recipe
Ingredients:
2 baked and cooled 8- or 9-inch cakes
Canned or homemade chocolate cake frosting
McCormick Black Food Color
Assorted decorations for cat's face, i.e. candy corn for eyes, nose and tongue, and licorice strings for whiskers
Directions for making Black Cat Cake:
Cut at marking. Remove inner circle and set aside. This will be the cat's head.
Cut cat tail, ears, and feet from remaining 1-inch outer circle and arrange on body of cat.
Mix food color into frosting, using about ½ teaspoon per 16 ounces (about 2 cups) frosting.
Frost cat head and body. Frost tail, ears, and feet and attach to cat head and body with frosting.
Use candy to make cat's eyes, nose, and tongue.
McCormick is a registered trademark of McCormick and Company, Hunt Valley, MD 21031