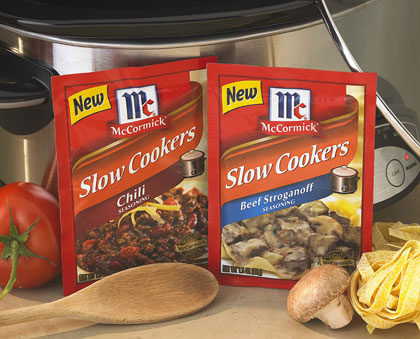 McCormick Chili and Beef Stroganoff Slow Cooker Seasoning Blends
New Seasoning Blends for Home Crock Pot Cooks
HUNT VALLEY, MD (May 2007) – The American love affair with slow cooker meals continues to grow, with recipes for this favorite kitchen appliance – an estimated 80% of homes have one – among the most searched for on the McCormick website. While crock pot cooking makes tender and tasty meals often adapting recipes for them is a challange for some home cooks. Now McCormick, the flavor expert, is introducing two new Slow Cookers varieties, Chili and Beef Stroganoff. Families across the nation say that from the aroma in the kitchen to the satisfied smiles at the table, there's nothing like coming home to a slow-cooked meal.
These new adaptations of classic crowd-pleasers take just 10 minutes preparation time to deliver perfectly spiced, no-fuss results.
Chili – Great for ground beef or lower-fat ground turkey, and spiced with just a touch of chile pepper, this is a surefire hit for pot luck suppers, tailgate parties, and more. Just flip the slow-cooker switch and go.
Beef Stroganoff – Stew beef stars in this elegant, comfort-food classic. Add seasoning, mushrooms, and onions. Stir in sour cream for the last 10 minutes of cooking. Serve over egg noodles.
The suggested retail price of the new McCormick Slow Cookers seasonings is $1.49 USD. Look for these crock pot recipe seasonings this fall in the seasoning mix aisle of grocery stores nationwide.
The new items join several popular Slow Cookers varieties including Savory Pot Roast, Hearty Beef Stew, BBQ Pulled Pork and Italian Herb Chicken.
McCormick is a registered trademark of McCormick and Company, Hunt Valley, MD 21031