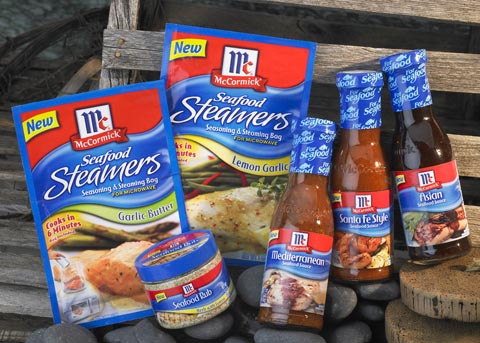 McCormick Seafood Seasonings
HUNT VALLEY, Md. – (March 2007) – This spring, McCormick – America's favorite spice maker – is making a splash at the seafood counter. The flavor expert is introducing three SEAFOOD SAUCES, two SEAFOOD STEAMERS and a SEAFOOD RUB to give people even more delicious options for preparing great tasting seafood at home.
NEW SEAFOOD SAUCES – three trendy infusions offer a versatile way to add flavor to seafood while grilling, baking and broiling. Try: Mediterranean, a blend of sun-dried tomatoes, onion, bell pepper, basil, oregano, and rosemary; Santa Fe Style, a zesty combination of tomato, garlic, chili pepper, cumin, herbs, and lime juice; and Asian, featuring soy sauce, white wine, garlic, sesame, and ginger. Suggested retail price for all sauces is $3.23.
NEW SEAFOOD STEAMERS – one pouch contains everything you need for perfectly seasoned, steamed fish and shrimp. Available in two popular varieties – Lemon Garlic and Garlic Butter, Seafood Steamers are an easy way to dress up weeknight meals. Simply place seafood, water and the seasoning in the steaming bag and microwave for six minutes. The specially designed steaming bag helps lock in freshness, moisture and flavor. Toss the empty bag and the mess. Suggested retail price is $2.89.
NEW SEAFOOD RUB – a savory, tangy blend of herbs, lemon and garlic that makes it a cinch to create a flavorful crust that seals in the juices of grilled, broiled or baked fish and shrimp. Suggested retail price is $1.79.
For more information and recipes, visit www.mccormick.com or call 1-800-MEAL-TIP (1-800-632-5847).
McCormick is a registered trademark of McCormick & Co, Hunt Valley, MD 21031