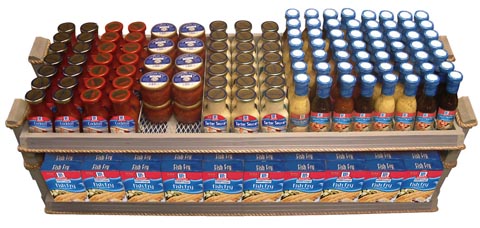 McCormick's New Seafood Pier
HUNT VALLEY, Md. – (March 2007) – Over 60% of consumers are preparing seafood once a week or more. And, whether they're trying to eat healthier meals or just enjoy the flavor of seafood, people crave variety, convenience and great taste. With numerous seafood choices and flavor options readily available, the possibilities are limitless – and sometimes overwhelming. That's why McCormick®, the flavor expert, is charting a course to help retailers revitalize the seafood department. How? By simplifying the shopping experience, adding interest to the seafood section with more visual impact and appetite appeal, and introducing on-trend new products for baking, grilling and steaming. McCormick's all-inclusive, value-added program is designed to drive sales and continue to provide the flavor and variety consumers trust.
Among the highlights of the seafood department revitalization are:
New products on-trend with consumer preferences. McCormick adds three sensational seafood sauces; two convenient Seafood Steamer varieties; and one savory, tangy Seafood Rub to its offerings. OLD BAY® is introducing a 30% less sodium Seasoning, a coarse blend Rub and a Seafood Steamer that's ideal for shrimp and salmon.
Impactful new packaging that features color food photography to enhance appeal and usage; provides easy instructions, tips and recipes for preparing seafood; communicates superior quality; and reinforces brand identity. An eye-catching new wave on the McCormick packaging unifies the line and creates strong presence on shelf.
McCormick Charts A Course Exciting new merchandising tools, including McCormick Seafood Piers that can be strategically placed in front of the seafood counter to encourage impulse purchases, drive trial and facilitate easier shopping.
Recipe cards offering easy meal solutions with enticing food photography, as well as seafood facts to help consumers become more savvy.
Materials to educate seafood department employees about common consumer questions on seafood species and preparation.
The power of the three-brands, McCormick, OLD BAY and Zatarain's, offers seafood sauces, seasonings and rubs; breadings and batters; cocktail and tartar sauces – everything consumers could possibly want to flavor seafood – with the convenience of ordering through one sales force.
With an extensive network of researchers, trend experts, chefs, home economists, food technologists, and sensory analysts, McCormick & Company, Inc. keeps its finger on the pulse of flavor. McCormick was founded in 1889 in Baltimore, Maryland and today is the largest spice company in the world. McCormick sources only the finest ingredients from around the globe to bring the highest quality flavors to consumers.
McCormick is a registered trademark of McCormick & Company, Hunt Valley, MD 21031