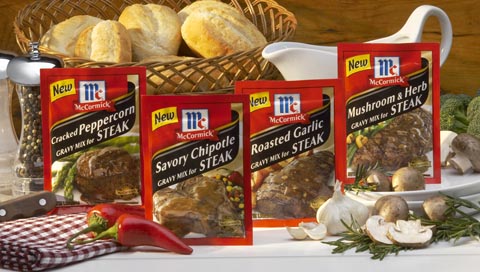 McCormick Steak Gravy Selection
HUNT VALLEY, Md. (October 2006) – It's time to upgrade your steak! New McCormick® Gravies for Steak transform any cut of steak into something special in just five minutes. Simply add water, heat and pour. With four exciting flavors that complement the taste of steak, no matter how it's cooked – grilled, pan-fried or broiled – these gravies turn your kitchen table into your favorite steakhouse seat. They are also perfect for mashed potatoes, vegetables, leftovers and sandwiches, and are versatile enough for cooking.
Enjoy your steak with these tasty varieties:
Roasted Garlic —a rich beef gravy with the mild, sweet flavor of roasted garlic that adds a richness to steak
Mushroom & Herb — a perennial favorite for steak featuring a blend of savory mushrooms, onion and thyme
Cracked Peppercorn — fresh cracked black pepper and steak, an All-American pair, combine for robust flavor
Savory Chipotle — smoky chipotle chile peppers lend just the right amount of heat to this savory gravy
These four convenient gravies are available now in the seasoning mix aisle of grocery stores nationwide. Suggested retail price is $1.29.
McCormick is a registered trademark of McCormick and Co, Hunt Valley, MD 21031