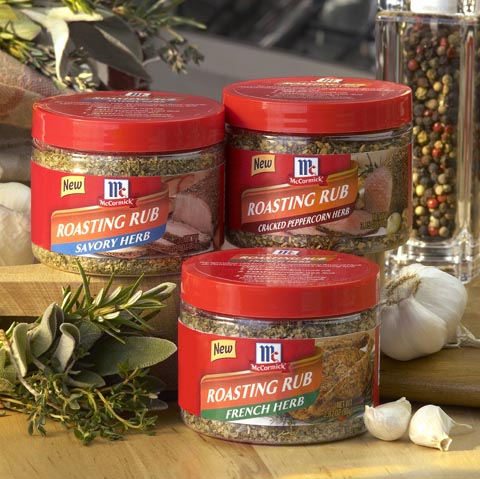 McCormick Roasting Rubs
McCormick® Introduces NEW Roasting Rubs
HUNT VALLEY, Md. (August 2006) – Nothing says home-cooked like a juicy roast right out of the oven. Few meals offer the easy, one-dish preparation and hearty, comforting taste that roasts do. That's why McCormick® is introducing Roasting Rubs, three expertly blended seasonings that ensure foolproof flavor every time. Simply rub and roast. These convenient rubs seal in juices so meats stay moist and tender, while flavoring pan drippings, to create savory gravy.
New McCormick Roasting Rubs are available in the following varieties:
French Herb — This classic blend of rosemary, marjoram, thyme, sage, tarragon, and lavender adds just the right flavor to roast chicken, pork or lamb.
Savory Herb — A robust blend of garlic, onion and sage is an ideal complement to pork, chicken and beef.
Cracked Peppercorn Herb — Cracked black peppercorns, rosemary and crushed red pepper combine to make ordinary roast beef extraordinarily delicious.
Look for McCormick Rubs in spice aisles nationwide, just in time for cooler temperatures. Suggested retail price is $2.89.
McCormick is a registered trademark of McCormick and Co, Hunt Valley, MD 21031