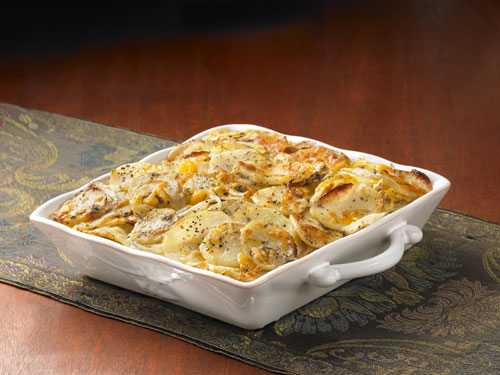 Sage Cheddar Cheese Potato Casserole
HUNT VALLEY, MD – With the holidays just around the corner, home cooks should be sure to have eight essential spices on-hand, according to an analysis of holiday favorite recipes by McCormick, the world's leading spice company.
The McCormick Kitchens found these eight essential spices are key to more than 180 holiday recipes that will be prepared in kitchens across America between Thanksgiving Day and New Year's Day.
Allspice
Cinnamon
Clove
Ginger
Nutmeg
Sage
Pure Vanilla Extract
Poultry seasoning
"We looked at traditional favorites for the holidays and found that these eight ingredients really are the building blocks for all your meal occasions," said Laurie Harrsen, Director of Consumer Communications at McCormick. "It's a good idea now – before the holiday crunch – to be sure your pantry is properly stocked, so you don't come up short when you're putting together your Thanksgiving turkey, pumpkin pie or sugar cookies."
McCormick's "menu math" reveals that cinnamon tops the list, showing up in more than 40 recipes, from sweet potatoes, to glazed ham to French toast. Nutmeg is another holiday hero, the key to a perfect eggnog or butternut squash soup. And, nothing says it's the holidays more than homemade gingerbread, making ginger a must-have for the season.
Home cooks can enjoy entertaining this holiday season with delicious recipes featuring these essential eight spices. For a spectacular starter, try the Holiday Pomegranate and Orange Salad. It combines allspice and cinnamon with the sweet, tart flavor of pomegranate juice for a special vinaigrette. Savory Herb Rub Roasted Turkey features poultry seasoning and nutmeg with other spices to season the turkey inside and out. And, Overnight French Toast makes an easy and indulgent New Year's Day brunch. These are just a few of the holiday recipes available at www.mccormick.com.