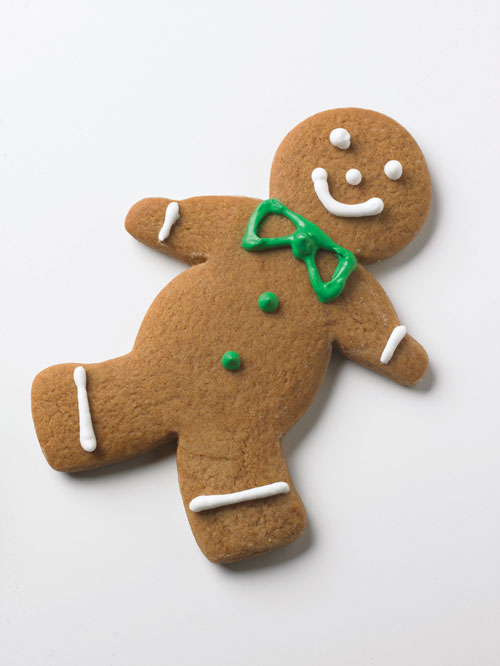 Gingerbread Man Cookie
GINGERBREAD: A HOLIDAY CLASSIC
Gingerbread houses, gingerbread cookies, gingerbread cakes…there's no better way to get in the holiday spirit than baking gingerbread for loved ones. Gingerbread is a tradition that brings family and friends together and kicks off the holiday baking season. To bring holiday bakers the very best, the McCormick Kitchens recommend this recipe for The Perfect Gingerbread Men. For more gingerbread recipes visit www.mccormick.com.
The Perfect Gingerbread Men
Preperation Time: 20 minutes
Refrigerate: 4 hours
Cooking Time: 10 minutes per batch
Ingredients:
3 cups flour
2 teaspoons McCormick® Ground Ginger
1 teaspoon McCormick® Ground Cinnamon
1 teaspoon baking soda
1/4 teaspoon McCormick® Ground Nutmeg
1/4 teaspoon salt
3/4 cup (1 1/2 sticks) butter, softened
3/4 cup firmly packed brown sugar
1/2 cup molasses
1 egg
Directions:
Mix flour, ginger, cinnamon, baking soda, nutmeg and salt in large bowl. Beat butter and brown sugar in another large bowl with electric mixer on medium speed until light and fluffy. Add molasses and egg; beat well. Gradually beat in flour mixture on low speed until well mixed. Press dough to a thick flat disk; wrap in plastic wrap. Refrigerate 4 hours or overnight.
Preheat oven to 350°F. Roll dough to 1/4-inch thickness on lightly floured work surface. Cut into gingerbread men shapes with 5-inch cookie cutter. Place 1 inch apart on ungreased baking sheets.
Bake 8 to 10 minutes or until edges of cookies are set and just beginning to brown. Cool on baking sheets 1 to
2 minutes. Remove to wire racks to cool completely. Decorate cooled cookies as desired.
Recipe makes 2 dozen Gingerbread Cookies