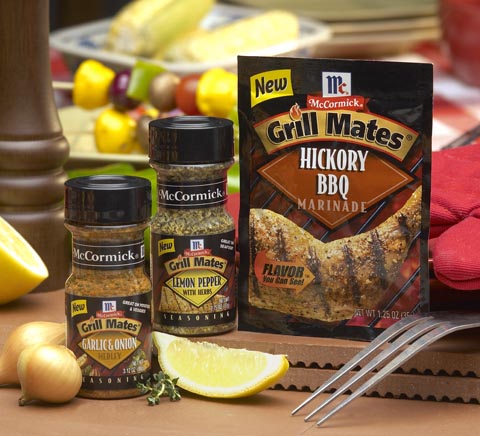 McCormick Grill Mates
GRILL WITH GUSTO
McCormick® Grill Mates® Fires Up Three New Flavors For Summer Grilling
HUNT VALLEY, Md. (May 2006) – One of America's favorite pastimes, grilling, goes hand-in-hand with summertime, long weekends and hanging out with friends and family in the backyard. So, it's no surprise that more than 75 percent of grillers fire up the barbecue at least once a week at this time of year.* What every great griller needs is an exciting way to spice up the meats, seafood and vegetables they make week after week. With three new Grill Mates® items, McCormick®, the expert on flavorful grilling, is helping to satisfy cravings for bold taste and variety.
Grill Mates Lemon Pepper with Herbs Seasoning is a vibrant blend of lemon, coarsely ground black pepper and select herbs. This shake-on seasoning tastes great with grilled fish, shrimp and chicken.
Grill Mates Garlic and Onion Medley Seasoning is a savory blend of garlic, onion and spices. Use it to jazz up grilled vegetables, potatoes and meats, and keep people coming back for more.
Grill Mates Hickory BBQ Marinade – Grilling enthusiasts can now enjoy one of their favorite flavors – hickory barbecue – in a homemade marinade. Unlike brush-on barbecue sauces, which are added at the end of cooking, marinades ensure that the flavor is infused throughout – keeping meat from drying out during grilling and turning up taste in every bite. Just add oil and vinegar and marinate 15 minutes for the perfect weeknight meal.
Try these along with the entire McCormick Grill Mates family of flavors. There's something for everyone, including:
Seven additional bold shake-on seasonings: Montreal Steak, Spicy Montreal Steak, Montreal Chicken, Mesquite, Hamburger, Barbecue, and Roasted Garlic & Herb
Five spice rubs: Spicy Hickory and Mesquite wet rubs and Steak, Pork and Chicken dry rubs
Nine additional marinades: Montreal Steak; Mesquite; Zesty Herb; Southwest; Teriyaki; Peppercorn & Garlic; Chipotle Pepper; Garlic, Herb & Wine; and Tomato, Garlic & Basil
Two salt free, shake-on seasonings: Salt Free Steak Seasoning and Salt Free Chicken Seasoning
The suggested retail price for the shake-on seasonings, which are located in the spice aisle of grocery stores, is $1.99. Look for the marinade in the seasoning mix section; suggested retail price is $0.99. All three new Grill Mates flavors are available nationwide.
With an extensive network of researchers, trend experts, chefs, home economists, food technologists, and sensory analysts, McCormick & Company, Inc. keeps its finger on the pulse of flavor. McCormick was founded in 1889 in Baltimore, Maryland, and today is the largest spice company in the world. McCormick sources only the finest ingredients from around the globe to bring the highest quality flavors to consumers. For more information visit us online at www.mccormick.com or call 1-800-MEAL-TIP (1-800-632-5847).
McCormick and Grill Mates are registered trademarks of McCormick and Co, Hunt Valley, MD 21031
* National Eating Trends 2004