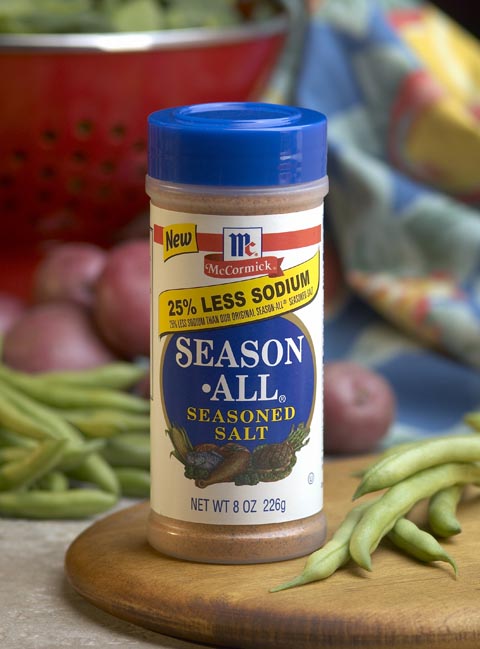 Low Sodium Season-All
AN ALL-PURPOSE FAVORITE SHAKES ONE QUARTER OF ITS SODIUM
HUNT VALLEY, Md. (May 2006) – Seasoned salt has always been a great seasoning for well — everything. As its name suggests, Season-All® is a versatile blend of more than eight herbs and spices, and a must-have for any kitchen. McCormick, the flavor expert, is pleased to introduce McCormick 25% Less Sodium Season-All®, which adds just the right touch of savory flavor – with less sodium. Now there's even more reason to shake this seasoning wherever you would use salt and pepper. Try it on hamburgers, chicken, meats, seafood, vegetables, baked potatoes, and more.
Look for the 25% Less Sodium Season-All® bottles in the spice aisle in grocery stores nationwide. Suggested retail price is $1.87.
With an extensive network of researchers, trend experts, chefs, home economists, food technologists, and sensory analysts, McCormick & Company, Inc. keeps its finger on the pulse of flavor. McCormick was founded in 1889 in Baltimore, Maryland, and today is the largest spice company in the world. McCormick sources only the finest ingredients from around the globe to bring the highest quality flavors to consumers. For more information visit us online at www.mccormick.com or call 1-800-MEAL-TIP (1-800-632-5847).
McCormick is a registered trademark of McCormick and Company, Hunt Valley, MD