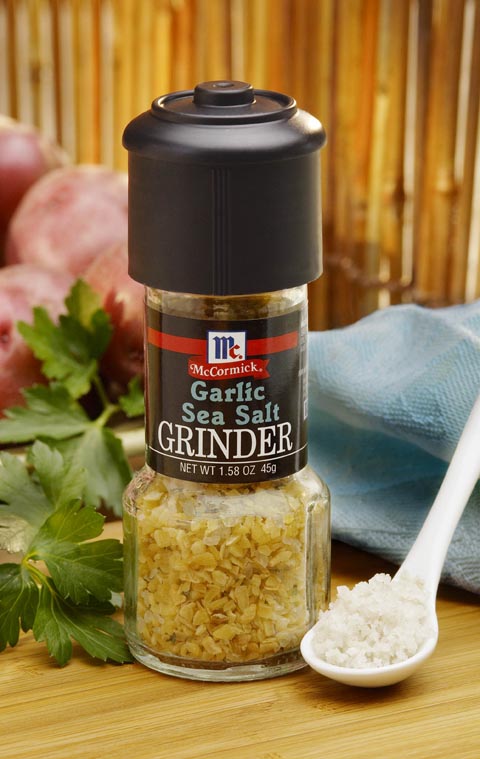 McCormick Sea Salt & Garlic
TWO FLAVOR ESSENTIALS, ONE CONVENIENT GRINDER
HUNT VALLEY, Md. (May 2006) – Two flavor essentials are teaming up in one convenient bottle for a zesty taste that's sure to liven up food. New McCormick® Garlic Sea Salt Grinder is the latest addition to the flavor expert's popular selection of disposable spice grinders. This savory blend of garlic and sea salt, flecked with parsley, is a great new way to enjoy this tasty twosome.
Naturally harvested from the French Mediterranean, and a favorite among chefs, sea salt is coarser than table salt, with a higher concentration of minerals. People who shake salt or garlic powder on pizza, potatoes, chicken, beef, fish, pasta, rice, and vegetables will love this new blend, which features an easy-to-use grinder that delivers fresh cracked flavor and aroma every time.
The suggested retail price for the Garlic Sea Salt Grinder is $2.05. Other McCormick Grinder varieties are Italian Herb Seasoning, Steakhouse Seasoning, Pizza Seasoning, Garlic Pepper, Black Peppercorn, Peppercorn Medley, and Sea Salt.
With an extensive network of researchers, trend experts, chefs, home economists, food technologists, and sensory analysts, McCormick & Company, Inc. keeps its finger on the pulse of flavor. McCormick was founded in 1889 in Baltimore, Maryland, and today is the largest spice company in the world. McCormick sources only the finest ingredients from around the globe to bring the highest quality flavors to consumers. For more information visit us online at www.mccormick.com or call 1-800-MEAL-TIP (1-800-632-5847).
McCormick is a registered trademark of McCormick and Co, Hunt Valley, MD 21031