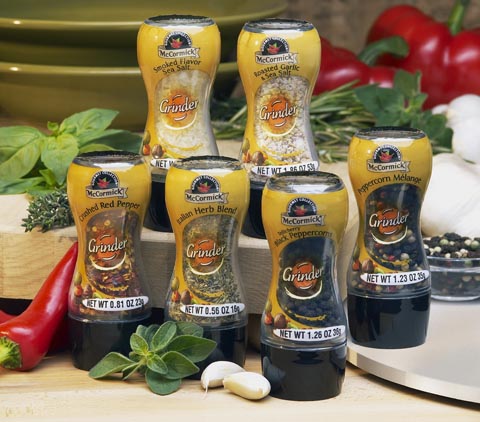 McCormick Gourmet Grinders
McCormick® Introduces Six Gourmet Collection® Grinders
HUNT VALLEY, Md. (May 2006) – The taste of fresh cracked, gourmet spices and herbs is now right at your fingertips. New McCormick® Gourmet Collection® Grinders feature some of today's trendiest flavors in distinctive-looking, ergonomic glass bottles with built-in grinders. Simply twist to open the grinder, and release the bold taste of the finest quality spices. These new grinders can be used during cooking and as a finishing touch at the table, so people can add as little or as much flavor as they want.
McCormick Gourmet Collection Grinders will be available this fall in the spice aisle of grocery stores nationwide. Suggested retail price is $3.09. Six different flavors offer something for every palate:
Tellicherry Black Peppercorns —Sourced from the Malabar coast of India, Tellicherry are the highest quality black peppercorns in the world. Only the largest 10% of peppercorns from the Malabar region are labeled Tellicherry. More mature than regular black peppercorns, they have a bolder flavor, which is ideal for meats, poultry, pasta and salads.
Peppercorn Mélange — This blend of Tellicherry, green, pink, and white peppercorns add a finishing touch of flavor – and color – to chicken, steak, pork and vegetables.
Smoked Flavor Sea Salt — Sea salt, preferred by chefs and now being discovered by home cooks, gets a hint of smoky flavor, which complements grilled foods, fish, pork, vegetables, and omelets.
Roasted Garlic and Sea Salt — This savory blend of roasted garlic and coarse sea salt is the ultimate flavor combination for potatoes, beef, chicken, breads, salads, and bread dipping oils.
Italian Herb Blend — Oregano, rosemary, thyme, basil, marjoram, and minced garlic bring a taste of the Mediterranean to pasta sauces, meats, bread dipping oil, vegetables and salads.
Crushed Red Pepper —Give pizza, pasta and meats an extra kick with freshly ground red pepper. Because the pepper is cracked at the moment of use, its flavor is more intense.
With an extensive network of researchers, trend experts, chefs, home economists, food technologists, and sensory analysts, McCormick & Company, Inc. keeps its finger on the pulse of flavor. McCormick was founded in 1889 in Baltimore, Maryland, and today is the largest spice company in the world. McCormick sources only the finest ingredients from around the globe to bring the highest quality flavors to consumers. For more information, visit us online at www.mccormick.com, or call 1-800-MEAL-TIP (1-800-632-5847).
McCormick is a registered trademark of McCormick and Co, Hunt Valley, MD 21031