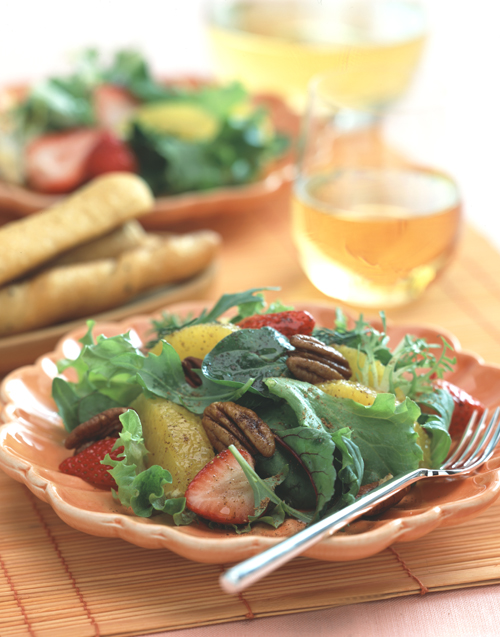 Field Greens Salad with Oranges, Strawberries and Chai Vinaigrette
DESTINATION: INDONESIA
Clove Field Report
McCormick's chief spice buyer, Al Goetze, travels to exotic ports-of-call, trekking across varied terrain in search of the finest herbs and spices. In this journal entry, Al invites us inside his recent trip to Indonesia, where he inspected the clove crop.
One of the things I find so fascinating about spices is the fact that they come from all parts of the plant or tree – roots, bark, leaves, fruit, flowers, and seeds. Cloves (Syzgium aromaticum) are the immature flower buds of a tropical tree in the evergreen family that is grown in Indonesia, Madagascar, Zanzibar, India, Brazil, and other countries. My focus this trip is Indonesia, the largest grower and consumer of cloves.
In ancient history, the trading world sought access to a cluster of islands in the Molucca Sea, which were renowned for their spices – in particular, cloves and nutmeg. Though war and political unrest controlled this region for hundreds of years, today the islands are part of Indonesia. My port-of-call was a town called Larompong, located on the southern half of Sulawesi Island, in the heart of a major clove growing area.
Buyung, my local business associate, met me at the port and escorted me to observe the clove harvest. We drove for several hours through the lush, green countryside. Magnificent volcanic
mountains provided a picturesque backdrop for our trek.
During the drive, Buyung briefed me on last year's prosperous crop and this surprising tidbit: the Indonesian clove cigarette industry is the single largest user of cloves in the world, accounting for about 90 percent of all production.
Arriving in the first farming village, we noticed clove trees interspersed throughout the hillsides and property borders. Similar to allspice trees, most parts of the clove tree exude some degree of aroma and flavor, though the flower buds are most potent. Clove trees can live 100 years and reach heights of 75 – 90 feet. Many of the larger trees have permanent bamboo scaffolding built around them to facilitate access to the flower buds.
Cloves are an annual crop, and similar to cinnamon, its farmers view it as a long-term investment. The farmer cultivates, and carefully monitors, the crop from the sapling stage. It takes years for farmers to realize the fruits of their labor. Typically, saplings don't even generate flowers for the first five years of their life cycle. Once a tree has reached maturity, following the monsoon season, flower buds rapidly develop in size and color. They change from green to pale yellow to pink, and from there, quickly turn red, indicating full maturity. It is critical to harvest the buds just prior to this bright red stage, when they are at peak flavor and aroma. The harvest usually lasts two to three months.
When the buds are ready to be picked, farmers manually break them off, along with the stems and leaves. They then separate the buds, by hand, from the stems and spread them in yards to sun dry for about a week. This is how the cloves achieve the characteristic dark brown color we've all come to recognize. Dried cloves are handled very gently to help prevent the round bud head from breaking off from the base. At McCormick, all dried cloves are manually inspected, one at a time, to insure the highest quality.
The flavor of cloves is strong, pungent and sweet – almost hot. Because of their perceived medicinal properties, they have been used throughout history as a breath freshener and also to provide relief from toothaches.
During the spring months, one of the best ways to enjoy the flavor of cloves is in a traditional glazed ham. Clove is also seeing a resurgence in popularity as a key ingredient in one of the trendiest flavors of the moment – chai. I've recently discovered a simple chai vinagrette that is a delicious accompaniment to salads and a unique way to enjoy this fragrant spice.
The distinctive flavor of cloves combines with cardamom, cinnamon and white pepper in a chai vinaigrette — the perfect way to dress up this sensational salad, creating a palette as bright as
the season itself.
Recipes using Cloves
Field Greens with Oranges, Strawberries and Chai Vinaigrette
The distinctive flavor of cloves combines with cardamom, cinnamon and white pepper in a chai vinaigrette — the perfect way to dress up this sensational salad, creating a palette as bright as the season itself.
Ingredients
Vinaigrette:
1/3 cup olive oil
1/3 cup orange juice
1 tablespoon sugar
1 teaspoon Chai Spice Blend* (below)
1/8 teaspoon salt
Salad:
1 package (about 6 ounces) field greens or baby spinach
2 seedless oranges, peeled and sectioned
2 cups strawberry halves
1/2 cup pecan pieces, lightly toasted
Directions
Mix Vinaigrette ingredients in small bowl until well blended.
Mix all Salad ingredients in large bowl. Toss salad with vinaigrette just before serving.
Makes 6 (1-cup) servings.
Sweet and Spicy Glazed Ham
Cloves are the star of this traditional ham topped with a delicious golden glaze, made with honey and brown sugar.
Ingredients
1/2 cup firmly packed brown sugar
2 tablespoons honey
1 tablespoon water
1/2 teaspoon McCormick Ground Cloves
1 ready-to-eat ham (about 8 pounds)
McCormick Whole Cloves
Directions
Preheat oven to 350°F. Mix sugar, honey, water and ground cloves in small bowl. Place ham in large foil-lined roasting pan. Score top of ham in diamond pattern. Place whole cloves in centers and points of diamonds.
Bake 1 1/2 hours, basting during last 1/2 hour with spice mixture. Let stand 15 minutes before slicing. Makes 18 servings.
No-Bake Chai Cheesecake
The combination of chai and chocolate takes this easy cheesecake to new heights.
Ingredients
1/2 cup hot fudge dessert topping
1 prepared chocolate crumb crust (6 ounces)
2 packages (8 ounces each) reduced fat (or Neufchâtel) cream cheese, softened
1/2 cup sugar
1 teaspoon Chai Spice Blend* (below)
1 tablespoon McCormick Pure Vanilla Extract
2 cups thawed frozen whipped topping
Directions
Spoon fudge into crust, spreading evenly to cover bottom and sides of crust. Set aside.
Beat cream cheese, sugar, Chai Spice Blend and vanilla in large bowl with electric mixer until well blended and smooth. Gently stir in whipped topping. Spoon into crust.
Refrigerate 3 hours or until set. Heat additional dessert topping and drizzle over cheesecake before serving, if desired. Store leftover cheesecake in refrigerator.
Makes 8 servings.
* Chai Spice Blend:
Mix 2 teaspoons each:
McCormick Ground Cardamom
McCormick Saigon Cinnamon
McCormick Ground Cloves
with 1 teaspoon McCormick Ground White Pepper until well blended.
McCormick® is a registered trademark of McCormick and Company, Hunt Valley, MD