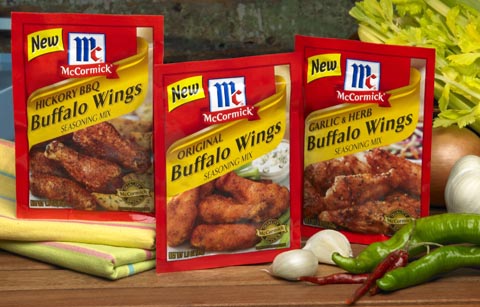 McCormick Chicken Wing Seasonings
HUNT VALLEY, Md. (October 2006) –Buffalo wings are synonymous with fun. A mainstay at tailgates and parties, these notoriously addictive chicken wings baked in a tangy, hot sauce, are a real crowd pleaser. Now, McCormick®, the flavor expert, is making it easy to enjoy the flavor of Buffalo wings made fresh, right in your home. So, tell the neighborhood bar that wing night is at your house and put the freeze on frozen wings. McCormick Buffalo Wings Seasoning Mix is the secret to making perfectly flavored, crispy wings every time.
Just place chicken wings in a resealable plastic bag with seasoning, shake to coat, remove and bake 25 – 30 minutes. They're also great grilled. Three distinct varieties offer more ways to turn up the heat on this party essential:
Original — the traditional combination of tangy, sweet and spicy
Garlic and Herb — a new way for garlic lovers to enjoy their favorite flavor
Hickory BBQ — captures the popular sweet and smoky taste with a touch of heat
The suggested retail price for these new Buffalo Wings Seasonings is $1.59. Look for them in the seasoning mix aisle of grocery stores nationwide.
McCormick is a registered trademark of McCormick and Co, Hunt Valley, Md