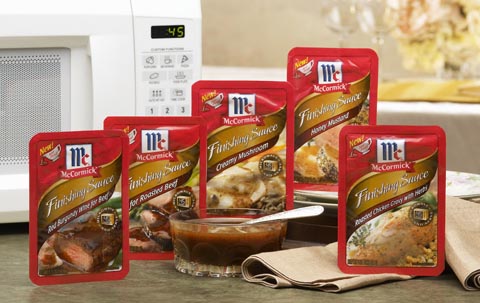 McCormick Finishing Sauces
Five New Ready-to-Serve Finishing Sauces Make Weeknight Meals Special
HUNT VALLEY, Md. (May 2006) – Famed French Chef, Fernand Point, once said: "It is the sauce that distinguishes a good chef." Now, McCormick®, the flavor expert, is giving cooks the secret to creating a perfect savory sauce in their own kitchens. McCormick Finishing Sauce is a new line of five pourable sauces, made with premium ingredients like Burgundy wine, Dijon mustard, mushrooms and herbs. Sauces are ready in just 45 seconds — simply snip the top corner of the package, heat and serve. Whether adding variety to home-cooked dishes or simply dressing up a rotisserie chicken from the local deli, these new sauces are the perfect blend of flavor and convenience to make weeknight meals special.
New McCormick Finishing Sauce is available in five mouthwatering varieties:
Red Burgundy Wine – The rich flavor of Burgundy wine combines with roasted beef, garlic, spices, and herbs. Serve with grilled or roasted beef, lamb or veal, or drizzle on grilled tomato slices.
Roasted Chicken Gravy with Herbs – Marjoram and thyme are the stars of this expertly seasoned gravy. Pour over sautéed or grilled chicken, pork, stuffing, mashed potatoes, and sautéed mushrooms.
Roasted Beef Gravy – The perfect roast beef au jus! Try this home-style gravy on steak, meat loaf and mashed potatoes, or as a way to dress up leftovers.
Creamy Mushroom – With its blend of savory mushrooms, heavy cream, onion, and spices, this sauce tastes great with sautéed or roasted chicken, beef, pork or salmon. Add excitement to side dishes by serving over rice, roasted potatoes, steamed vegetables, or pasta.
Honey Mustard – A delicious combination of Dijon mustard, honey, white wine, and spices, this sauce pairs well with sautéed or grilled chicken, pork or baked ham.
Look for McCormick Finishing Sauces in the gravy section of grocery stores nationwide. Suggested retail price is $1.99 for a 5 oz. stand-up pouch.
With an extensive network of researchers, trend experts, chefs, home economists, food technologists, and sensory analysts, McCormick & Company, Inc. keeps its finger on the pulse of flavor. McCormick was founded in 1889 in Baltimore, Maryland, and today is the largest spice company in the world. McCormick sources only the finest ingredients from around the globe to bring the highest quality flavors to consumers. For more information visit us online at www.mccormick.com or call 1-800-MEAL-TIP (1-800-632-5847).
McCormick is a registered trademark of McCormick and Co, Hunt Valley, MD 21031