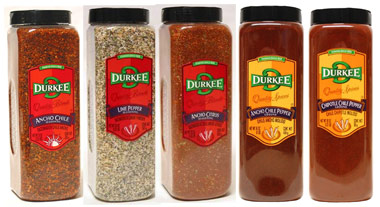 Durkee Seasoning Latin Flavors
ANKENY, IOWA – Durkee®, a leading foodservice seasonings, service and menu-idea provider, introduces a new line of authentic Latin American spices for today's busy, quality-conscious operators. Durkee has developed five products that will enhance and complement today's increasingly popular Mexican, Caribbean and South American cuisine ­ all for just under a penny per serving.
The Durkee Latin flavors line includes Ancho-Chile Seasoning, Ground Ancho Chile Pepper, Ground Chipotle Chile Pepper, Ancho-Citrus Seasoning, and Lime Pepper Seasoning. These Latin flavors are a culinary gold mine for kitchens, making it easy to acquire authentic Latin American spices that are already measured and blended for perfect consistency. For more ideas, recipes, and product detail, visit our information-packed website at durkee.com.
Durkee is a registered trademark of ACH Foods, Memphis, TN