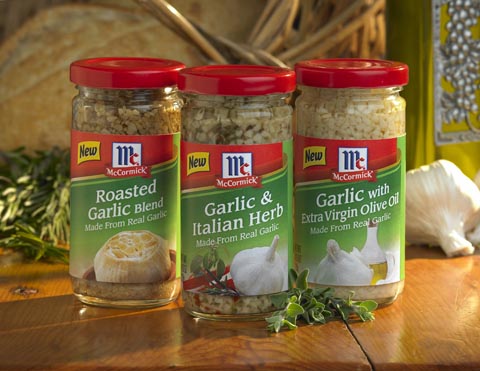 McCormick Fresh Garlic
A Convenient Way to Enjoy Fresh Garlic Flavor Anytime
HUNT VALLEY, Md. (May 2006) – Garlic continues to be an essential ingredient in just about every world cuisine and every kitchen. Now McCormick®, the flavor expert, is making it easier than ever for people to enjoy fresh garlic flavor anytime – no mincing, crushing, peeling, or chopping required. New McCormick Garlic Blends are ready-to-use minced garlic, paired with culinary favorites like olive oil and Italian herbs. Just spoon and cook.
Three delicious blends offer something to satisfy any garlic lover. Simply substitute one tablespoon garlic blend for one clove fresh garlic, and enjoy.
Roasted Garlic Blend – roasted and fresh garlic combine to deliver a robust flavor for mashed potatoes, meats and more
Garlic & Italian Herb – two popular Mediterranean herbs – basil and oregano – team up with garlic and red bell pepper in this savory blend, which is great for garlic bread, pasta and chicken
Garlic with Extra Virgin Olive Oil – a match made in heaven – real garlic and extra virgin olive oil, in perfect proportion, take the guesswork out of creating a scrumptious shrimp scampi, pasta sauce and stir-fried vegetables
"Garlic is indispensable to every cook," said Laurie Harrsen, spokesperson for McCormick. "These new blends offer three delicious ways for people to enjoy the flavor of real garlic, while providing the ultimate in convenience."
Look for new McCormick Garlic Blends in the spice aisle of grocery stores this fall. Suggested retail price is $2.39.
With an extensive network of researchers, trend experts, chefs, home economists, food technologists, and sensory analysts, McCormick & Company, Inc. keeps its finger on the pulse of flavor. McCormick was founded in 1889 in Baltimore, Maryland and today is the largest spice company in the world. McCormick sources only the finest ingredients from around the globe to bring the highest quality flavors to consumers.
McCormick is a registered trademark of McCormick and Co, Hunt Valley, MD 21031